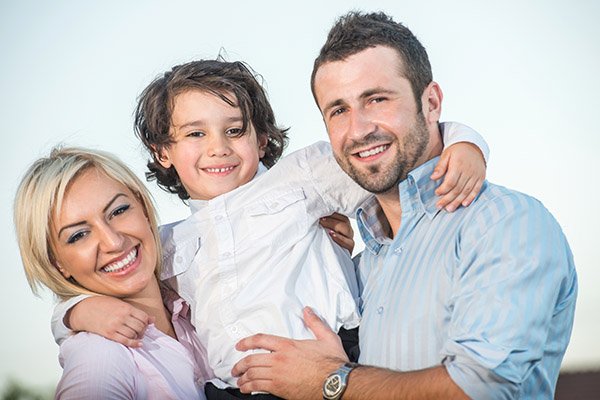 Considering dental implants to be the future is no stretch. Today's dental implants are placed by skilled dentists, oral surgeons, and periodontist, using the most innovative techniques and the highest quality of materials. The resulting product is something that is stronger, more durable, and looks far better than anything else available on the market for tooth replacement. We understand that many of our patients are more comfortable using the most traditional methods of tooth replacement, like bridge and dentures. However, much of the time this is just a case of not understanding how a dental implant works and the magnitude of the difference it can make in your day to day life. One of the easiest examples is the fact that dental implants are placed on a permanent basis, surgically inserted into the gum for the maximum stability. Compare this to a bridge, which is cemented into place using dental cement, or a denture, which is removable and requires adhesive to hold it in place. The more patients learn about dental implants, the more likely you are to realize that not only are dental implants the future, they are the only long term, good looking solution that is out there to replace your lost teeth.
While dental implants are certainly not new, using them to replace older and more traditional prosthetics tends to cause people some consternation. This is because change is never easy, and it take a lot of educating, conversation, and understanding that there are concerns before a person agrees to make the best oral health decision of their life. Many of our patients have concerns about how long an implant will last, whether or not they will successfully take once implanted, and what the recovery time looks like after the surgery. For the first question, we know that typically a dental implant lasts between 7 and 30 years (or a lifetime). There are a number of factors that influence the gap, making it so wide. These include diseases that you may or may not contract which could affect your jawbone, potential resorption of the jawbone and hence a loss of bone mass, and how well you take care of your teeth. All of these make it difficult to predict just how long your particular implants will last. We also have a success rate of around 98% for our implants. Success rates vary, based on accumulated data, but typically is always above 93%, which is exceptional for a dental prosthetic.
Dental implants are typically done in a number of stages, over several weeks. Doing it in stages allows for three things. It allows us to finish a stage and inspect our work, it allows for modifications if needed, and most importantly it gives you the opportunity to recover after each stage. Between each of these stages and after we have finished the installation, you will need between 10 and 14 days to recover. During this time, you will need to be cautious about what you eat so that you do not cause yourself unnecessary pain. The reason that this procedure takes longer to complete and recover from is that we are replacing your root system with a titanium post. This creates the most durable tooth replacement available, making the process and recovery time involved worth it.
Teeth Whitening

>
Cosmetic Dentistry