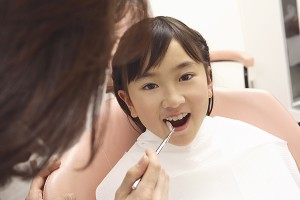 Pacific Horizon Dental Arts, offers
pediatric dentistry
services for all of the little ones in your family.  Did you know that children should start to visit the dentist when they are one year of age?  As soon as your child has most of their baby teeth it is time to see the dentist.  Taking care of your child's teeth now can help them to have good oral health for the rest of their life.Here is what you can expect at your child's first dentist visit:
Friendly staff. Our staff understands that visiting the dentist may seem overwhelming or scary to a young child.  The friendly staff at Pacific Horizon Dental Arts, will greet your child with a warm smile and make them feel right at home.
Paperwork. Each time you visit a new medical provider there is paperwork that goes along with it.  We will need to gather basic patient information like your child's birthday, your address, phone number, and the information for both parents.  We will also collect your insurance information.  This process can take a few minutes, which can be difficult when also watching a s

mall

child.  If you call ahead, we would be happy to mail the paperwork to your home so that you can fill it out at your leisure and bring it in with you.
Cleaning. Our dental hygienist will very gently clean your child's teeth.  Since we are a pediatric dentist, our hygienists have been trained on how to clean and treat children's teeth to ensure that it is done quickly and without causing them any discomfort.
Fluoride treatment. We will frequently give children a fluoride treatment to help strengthen their teeth by depositing minerals that are naturally worn away through eating and drinking.
Teeth Inspection. Dr. Garcia will examine your child's teeth to ensure that they are coming in properly and identify any potential issues.  Most of the time your child's teeth will be just fine.  It is, however, important to identify any cavities early on so that they can be treated before they cause your child pain or discomfort.
Prizes. We like to give our young patients something small to take home with them.  Whether a sticker or a goodie bag, a special prize will often stick in a child's memory and make them excited to come back the next time.
As a
pediatric dentist
, our goal is to help our young patients stay in good oral health while keeping them comfortable.  We believe that preventative care is much better than waiting until your child is in pain to see the dentist.  If they don't come in for a visit early enough, they could end up with a cavity or tooth decay and need a major dental treatment.  Not only will they be in pain but their first memories of the dentist will be associated with that pain.  This could create an aversion to visiting the dentist for the rest of their life.  Cavities can form easily, especially with babies and toddlers that take a bottle of milk or juice to bed.  Brushing alone is sometimes not enough.  Visit Pacific Horizon Dental Arts today and see why parents throughout the area trust us to care for their children's oral health.